The boom in building demand last year coupled with Covid-19 restrictions, issues with labour and widespread material shortages caused an avalanche of paperwork and admin.
We talk to hundreds of building companies around the country each week so we've got our ear to the ground when it comes to the tech building companies are using to reduce their paperwork burden, propel their businesses forward and improve efficiency.
Here are some of the trends and tools we keep hearing about that will help you to scale up and go faster in 2022. 
Estimating and construction management
Lots of small building companies want a single system and tool that will handle everything from the first takeoff to the final invoice. Buildxact is designed for small builders. It will help you stay on top of each job, giving you a clear picture of income and outgoings so you'll know exactly where your job profit stands. Buildxact members say the estimating and construction management software cuts time spent on takeoffs by 80%. You can upload the PDF and do your takeoff on-screen in minutes, you don't need paper plans or scale rulers.  Measure in a few clicks and price jobs in one step. Buildxact says it takes just two hours to get started.
Supplier network platform
Managing your business from an email inbox and sending "quote this" emails to suppliers and trades leads to inaccurate quotes, issues with pricing, rework and delays. BuiltGrid is a supplier network that provides one integrated system for project info, quote comparisons, orders and call ups for all materials, trades and services. If you're building five projects a year, time gains have been shown to save builders 54 days. That's 54 days you can use to secure your next project, focus on your craft or hang out with your family. The best thing about BuiltGrid is that it's free for builders. Yeah, completely free!
Property information
When a potential client calls you up about a site they've just purchased or they are talking about wanting to build a house at the back of their property, did you know you can quickly put the address into Landchecker and view all the information about the site in one place. 
It pulls property data from more than 300 sources so you can check things like the site size, planning zones, overlays, previous planning permits and more. You can even turn on high-resolution aerial imagery to get a good look at the site, without having to jump into a separate (and expensive) platform like Nearmap. With all this information available at a glance, you will look like a pro to the potential client and will be able to quickly gauge if it's the type of build that will suit your company.  
Landchecker is currently available in Vic, NSW, Qld, Tas and SA and has more than 3000 builders regularly using the platform. 
Site deliveries
If you've ever had UberEats delivered and thought  "I wish it was this easy to get supplies delivered to my site", there are some excellent platforms available that will do just that. 
If the crew on-site run out of nails or need some supplies delivered quickly, just open up an app like DeliverTrade, select what you want, and when you want it delivered. Everyone on site can focus on the task at hand, rather than dropping tools to do a run to Mitre10, and you'll get less calls to "pick up a few things" while you are out and about. 
DeliverTrade is currently available in Melbourne and Adelaide, with plans to roll out availability across Sydney, Brisbane and Gold Coast over the coming months.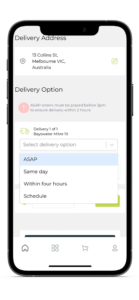 Get supplies delivered to site ASAP with DeliverTrade, or schedule ahead of time. 
Qualified lead generation
If you want to scale up but would rather spend time on the tools rather than building your network and looking for new clients, there are lots of ways you can promote your business online. The iBuildNew.com.au is a leading online platform for new home construction that can get your business in front of people actively looking for custom builders. The iBuild  New Home Advisor team will qualify the home buyer, so they will be highly qualified and matched to your building company.
Health and safety management system
Cut the time you spend on WHS admin, without cutting corners. In a 2021 survey, HazardCo members said they complete their health and safety admin in half the time since switching from traditional paper-based systems. It's a fully guided system designed for building companies, that comes with all the reports and templates you need loaded up and ready to go. So even if you're not a health and safety guru, you will feel confident you are keeping your crew and business safe. HazardCo members also get access to free advisory support, so you will know you have a team of WHS experts on hand to give advice when you need it. If you have an incident on site the team will support you through the process. 
HazardCo is used by more than 10,000 businesses across Australia and New Zealand.