We're going to run you through Respiratory Protective Equipment (RPE), which is a type of personal protective equipment (PPE) which protects people from inhaling substances that are hazardous to their health. These hazardous substances include airborne contaminants such as asbestos, hazardous chemicals and dust, fumes (such as welding fumes), and infectious substances, but you should keep in mind that RPE should also be worn to protect the wearer from low levels of oxygen such as working in confined spaces. 
But, before you even get started with RPE, make sure you have other practical control measures in place such as local exhaust ventilation to minimise or eliminate contaminants in the air. Also, keep an eye on your team's health and workplace conditions to ensure that they aren't injured or made sick by their work.
We've gone ahead and put together a quick guide of factors to consider when providing your workers with RPE. 
Types of RPE
Respirators that use filters remove contaminants from the air which the wearer will be breathing. Disposable respirators (often called dust masks) are good for short-term or one-off use and protect the wearer from harmful particles such as dust, fumes, fibres, and biological hazards such as bacteria or viruses. 
Powered air purifying respirators (PAPRs) consist of headgear and fan assembly that take contaminated air, filters and removes a sufficient portion of these hazards, and then delivers the clean air to the user. These are also known as positive pressure masks, blower units, or blowers. 
Supplied air respirators provide a supply of clean air to the wearer from a source such as an air compressor or cylinder. It's important to note that the air supply needs to be checked regularly to make sure that it is safe to use. 
Using RPE
It's important for your workers to visually check their RPE for signs of damage before each use so that they can let you know if there are any issues, including whether it needs to be cleaned or decontaminated. 
Make sure your team stays safe by keeping their RPE on while working in the hazardous area. Removing it for even a short period of time could be a risk to their health.

If your workers are using RPE that requires a tight fit, make sure that they are checking it properly before entering the hazardous area. There are two fit checks which they need to do: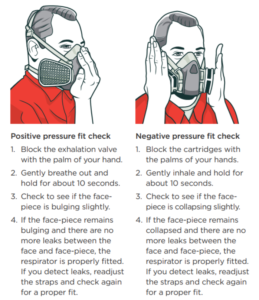 Keep in mind that if your worker's safety glasses fog up while they are wearing a half-face respirator, this is a sign that there is a leak at the top of the respirator. 
Life Shavers: shaving your beard could save your life
When your workers are wearing respiratory protective equipment at work, they should be clean shaven to ensure it is forming a seal and protecting them from breathing in hazardous materials. Even a small amount of stubble can prevent RPE from sealing correctly which means your workers will still be inhaling harmful materials which may cause health concerns. A clean shave goes hand in hand with the correct RPE for the job.
It's your responsibility to monitor your workers' health. Make sure that you are completing regular Site Reviews on the HazardCo App, as this will help you to identify potential hazards and put effective plans in place.