Working at heights isn't for everyone. But for those doing their job at heights well above ground level, safety precautions need to be in place. 
When, either yourself or others, are working at heights it's everyone's responsibility to ensure the safety of those working up there, and those on the ground. 
The reality is unsafe work or working conditions at heights can have devastating consequences. Even from a small height, fatalities are significant and reparations for businesses, severe. Preventing falls should be actively managed so that people working at height are kept safe.
Here's how:
Work on the ground or a solid construction
If working at heights can be avoided it should be. Working from the ground is always the safest option and should be considered the primary option. 
Use fall-prevention measures
If working from a height is necessary, you need to manage the risk of a fall. Fall prevention measures could be something like an elevated work platform, scaffolding, edge protection, or work decks.
Use a fall restraint system
A fall restraint system enables a person to work in a way that prevents the person from falling e.g. fixed length lanyards and static line systems 
Use a soft landing system
A soft landing system consists usually of a safety net, designed to catch a person and prevent them from hitting the ground. 
A fall arrest system enables a person to work supported in a way that if they fell they would not come in contact with the ground but instead have a controlled arrested fall e.g. shock absorber on lanyard or anchor points, scaffolding install, etc.
Ladders do not provide fall protection and as such should not be the first option when selecting working at height equipment. Ladders should only be used for short duration works such as changing a light bulb or paint touch-ups.
Seek professional assistance
Working at height can often be very high risk and there are professionals who make it their job to complete this work safely. It is often safer and more cost effective to use height specialists even for shorter jobs. 
Good practice safety guidance
Review the WorkSafe practices for working at height – and provide your workers with simple safety guidelines and tools they can refer to daily. 
Help employees understand working at heights practice
Once they have the tools, it's about ensuring your workers understand them. Reiterate the importance of procedures in toolbox meetings, provide training, and empower them to take care of one another on-site with reinforced messaging.
It's important you and your team are actively involved in ensuring any work carried out at heights, is done in the safest way possible. Empower your team to speak up, highlight unsafe working situations or practices, and swiftly act to handle them. 
We recommend doing a Task Analysis to put a plan in place to manage the risks involved with working at height. This will help you decide whether it's possible to eliminate the risk of falling from height or what the most effective control/s is to minimise the risk. The following WorkSafe NZ table is a helpful tool when deciding which working at height controls to use – click on the image to view.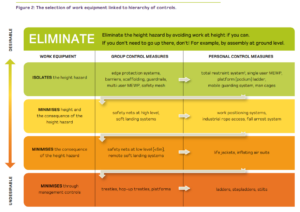 If you've got a question about working at height or any other health and safety matter, the HazardCo Advisory Team is here to help. Give them a call on 0800 555 339, option 4.